The coaching carousel has never spun faster as we head into the College Football Bowl and Championship season. The recruiting and retention of coaches have been under full public display, particularly at some of the highest-profile college football universities.
So how do powerhouse universities recruit and retain top-tier coaches?
Increasingly, it includes split-dollar life insurance as a key part of their compensation package.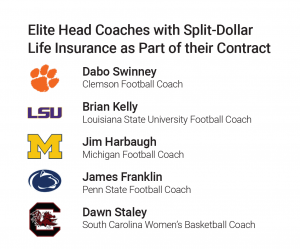 So How Does This Work?
Essentially, a split-dollar arrangement is an agreement that "splits" or shares elements of a life insurance policy – cash value and death benefit – between the parties.
Coaches receive a tax-advantaged life insurance policy to supplement retirement income and protect their families/estates.
Universities get a cost-efficient way to compensate the coaches in a tax-efficient and economically effective manner. All premiums paid by the University are eventually paid back in full.
With LSU and Penn State, the Universities are loaning premiums (in both coaches' cases $1 million per year) for an insurance policy that the coaches own. Later, the universities are reimbursed out of either the policy's cash value or death benefit.
Split-Dollar Is Not Just for Coaches
Split-dollar life insurance plans are not just for high-profile college coaches; they are very effective planning, recruiting, and retaining strategies used in for-profit and not-for-profit organizations.
For Universities and other non-profit organizations, split-dollar plans are particularly attractive because they avoid the 21% excise tax on compensation over $1 million. This excise tax can affect prominent leadership roles, including:
President of a University
Head of a Major Foundation
Head of a Hospital/Healthcare Organization
CEO of a Credit Union
At Thomas Financial, we have specialized in designing and implementing split-dollar plans for over 30 years. Find out how we can help your organization attract, reward, and retain your most important employees. Email jstephens@thomasfinancial.com or call us directly at (813) 273-9416.